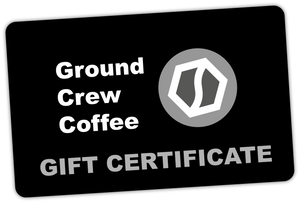 Gift Certificate (Delivered Electronically)
Sale price Price $10.00 Regular price
An easy way to gift Ground Crew coffee!
Let your recipient friend, colleague, or family member choose exactly the right coffee and time (not to mention decide on whole bean or ground).
How it works:

This is an electronic gift certificate.


You - the purchaser - will receive the gift certificate information in email.


Share the gift certificate email with your recipient and they may redeem it.


Gift certificates are codes that can be entered during checkout.


A gift certificate code may be used for multiple orders as long as there's still a remaining balance (the website automatically tracks the balance remaining).