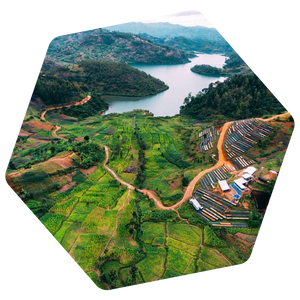 Rwanda Rusiga **Sold Out**
Sale price Price $12.00 Regular price $0.00
Black tea, cherry, citrus, graham cracker.
A rewarding coffee for adventurous coffee fans.
The best Rwandan coffees are prized by aficionados for their fruit, berry and floral characteristics. This Rwanda Rusiga boasts all these elements. The diverse layers add depth and complement each other beautifully.
10% of the profits are donated to improving the lives of the villagers and the most vulnerable orphans and widows in the community. This coffee is the result of an on-going commitment to improve the livelihoods of hundreds of small family farms in the Rusiga community, including 5 years of living wages to help smallholders plant and establish their coffee trees until they became viable.
Rwanda Rusiga Coffee Facts
Body
Medium
Acidity
Bright
Altitude
6,300 - 7,800 feet
Star Wars Character
Obi-Wan Kenobi
Varietal

Bourbon